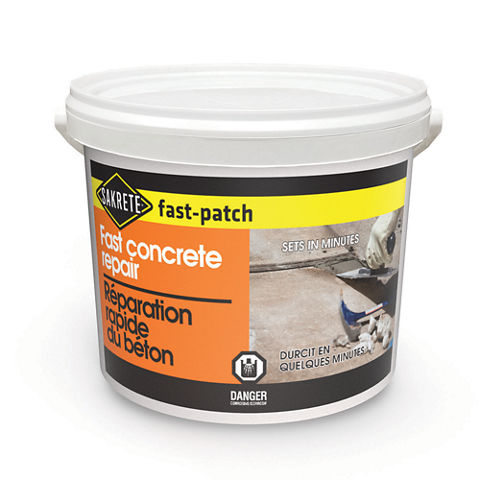 SAKRETE fast-patch is a pre-blended, fast-setting, nonshrinking, high strength, cement mixture designed to facilitate fast and easy concrete and masonry repairs. Use for applications where a thickness of 5 cm (2 inches) or less is required. Sets in minutes and may be driven on in only 2 hours.
Premium quality, patch material for repairs to concrete that require a set time of 8 to 12 minutes
Ideal for fast repairs of concrete steps, walks, drives and patios
Apply in a thickness up to 2 inches (5 cm)
Open to foot traffic in 1 hour
Ready to use; just add water
Usage
Ideal for fast repairs to concrete sidewalks, curbs, driveways, floors, steps, parking garages, loading docks, highway structures, pre-cast units and concrete pipe. May also be used to anchor posts, parking meters and guard rails.
Advantages
Premium quality, patch material for repairs to concrete that require a set time of 8 to 12 minutes
Ideal for fast repairs of concrete steps, walks, drives and patios
Apply in a thickness up to 2 inches (5 cm)
Open to foot traffic in 1 hour
Ready to use; just add water
Packaging
2 KG (4.4 lb) plastic pail 055226171041
5 KG (11 lb) plastic pail 055226171119
15 KG (33 lb) plastic pail 055226171331